Chair for Technologies and Management of Digital Transformation
Univ. Prof. Dr. Ing. Tobias Meisen
Funded research projects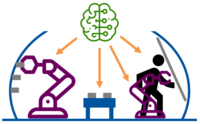 AGR33D: AI-based Aircraft Shell Assembly using Reinforcement Learning
The project aims to create cost- and quality-related competitive advantages by developing automated and digitally supported processes in the field of aircraft shell assembly. In this context, the chair is conducting research in two use cases. First, methods from artificial intelligence and reinforcement learning are used to automatically control assembly robots. Second, artificial intelligence methods are examined to create adaptive processes and work plans for collaborative environments.
You can find further information here.
AlphaMES: AI-based Production Planning for Manufacturing Processes in the Aviation Industry using Reinforcement Learning
The project enhances the digital transformation in the production environments of the aviation industry with small batch sizes. The aim is to reduce the control and planning efforts in production in a sustainable manner. For this purpose, state-of-the-art algorithms and techniques from the field of deep reinforcement learning are used, in which intelligent agents learn independently to develop the best approach for a defined planning goal.
You can find further information here.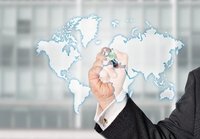 Bergisch.Smart: AI-based Traffic Management and Cooperative Digital Map Services
Our chair is researching the implementation of an innovative data marketplace which enables cities, companies and citizens to provide and analyze static and real-time data. For this purpose, we use state-of-the-art technologies such as Knowledge Graphs and Deep Learning.
You can find further information here.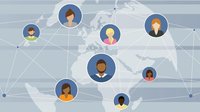 Bergisch.Smart: Rethinking Mobility
In this project, we enable citizens to directly become producers of products and services of a modern smart city by creating the basic technological structure and by providing the necessary expertise. To do this, the project will organize various activities such as challenges and hackathons in order to challenge the creativity of the local civilian population.
You can find further information here.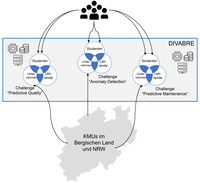 DIVABRE - Digital Valley Bergisch Region
The aim of the project is to develop a platform for networking between students and regional companies in the Bergisches Land region. On this platform, companies are given the opportunity to provide their own data science problems in defined challenges which will be solved by students. The TMDT supports the conception of the challenges as well as the evaluation of the produced results in cooperation with partners from the universit.
You can find further information here.
KGBDM: Knowledge Graph-based Data MAnagement Platfrom
In this project we develop a data marketplace which allows connecting, finding, accessing and understanding of batch and streaming data. Our marketplace enables users to process, query, subscribe and share heterogeneous data sources without considering the data model. For this purpose, a novel, dynamic, self-learning knowledge graph is developed, which is built from scratch by artificial intelligence and interactions with the user of the platform, continuously evolving and adapting to its environment.
You can find further information here.
Applied R&D projects
Applied R&D projects in close cooperation with industrial companies

You can find further information here.
Project archive
Finished research projects of the chair.

Further information can be found here.
SIKoM Projects
Ongoing research projects of the SIKoM

Further information can be found here.