Hannah M. Seichter, M.A.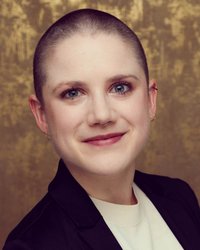 Scientific Researcher
Area of Research:
Social and urban implications of the Digital Transformation
Smart City
Urban (sustainability) Narratives and Transformation Processes
Digital Transformation and Innovation Processes, especially opportunities and challenges of 5G as an Enabler of Innovation Processes
Smart Health
Transformation Processes
Biography
Hannah M. Seichter has been a research associate at the Institute for Systems Research in Information, Communication and Media Technology at the University of Wuppertal since October 2020. Among other things, she is currently working on how 5G can enable innovative applications in the field of medicine and thus raise medical care, research and teaching to a new level.
She determined what potential digitalization holds for the spatial context as part of her interdisciplinary urban studies master's degree in Urban Culture, Society and Space at the University of Duisburg-Essen (UDE). Here she focused on urban transformation and sustainability processes within her studies. For example, at the Sustainability Process and the Center for Logistics and Transport at the UDE as well as the Wuppertal Institute for Climate, Environment and Energy gGmbH (WI), where she worked during her studies. In cooperation with the WI, she also explored the narrative of the smart city and digital participation in an urban context.
After her master's degree, Ms. Seichter designed dialog and communication processes for infrastructure grid construction projects in the context of the energy transition.